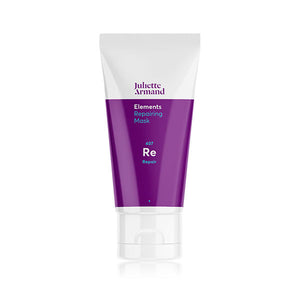 Juliette Armand Elements Repairing Mask 修復面膜
Juliette Armand Elements Repairing Mask 修復面膜
Size: 50ml
For regenerating and anti-ageing treatments, as well as for chemical peeling follow-up treatment. For regular use on skin in need of regeneration (e.g. dilated pores, acne, etc.).
USE: Weekly (1-2 week) Apply a small amount directly onto face and neck after applying serum, gently massage for a couple of minutes. Leave for 10-15 minutes. Thoroughly wash off with tepid water. Continue with Juliette Armand Serum and Cream.
ACTIVE INGREDIENTS:COLLAGEN, LICHEN(CHONDRUS CHRISPUS), DERMAL DECONGESTANT FACTOR

Specific remodeling and anti-oxidant mask. It contains the regenerative DERMAL DECONGESTANT FACTOR (polysaccharides and polypeptides) which boosts the skin's natural defense system and repairs DNA damage of skin cells. The seaweed CHONDRUS CHRISPUS provides mechanical peeling which stimulates the natural skin regeneration process, helping the skin regain its natural balance, smoothness and texture.
---
我們也推薦