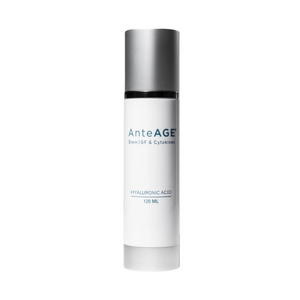 AnteAGE ® Hyaluronic Acid 修補精華 120ml (PROFESSIONAL USE ONLY)( NOT FOR SALE)
AnteAGE ® Hyaluronic Acid 修補精華 120ml (PROFESSIONAL USE ONLY)
Size: 120ml
溶液修復精華的滑溜質地可在微針療程中作輔助功效。該配方包含高濃度的分子(HMW)透明質酸。配方的清純性質,僅使用天然接近人體的分子元素,特別適合保護和舒緩「破壁皮膚」,並為受損組織提供快速保濕修復作用。
主要成份 Key Active Ingredients: 
This hyaluronic gliding solution is designed to be used with a dermal roller or any tool or device where glide and slip are required.
This formula contains a high percentage of High Molecular Weight (HMW) hyaluronic acid, as research shows lower molecular weights being pro-inflammatory in the skin.
Due to the clean nature of the formulation, utilising only native human molecules, this glide is especially suitable to protect and soothe "open skin" and provides rapid hydration to compromised tissue.
Application:
Dispense 2 pumps of product and apply to clean skin. 
Use in conjunction with the micro-needling roller 0.25 mm or treatment kit complete with five vials of growth factor solution. 
Ingredients:
Water (Aqua), Hyaluronic Acid, Benzyl Alcohol, Dehydroacetic Acid
---
We Also Recommend